"Thoughts and Dreams" by Sapphire Rose
A wonderful character sketch: Joe muses on his life Rating PG-13 *
"Once You've had Mecha..." by Matrix Refugee
...you'll never want a 'real' man." Various dreams, rantings and ramblings about the titanium sex-god called Joe Rating: PG-13
"Enigma Of The Absolute" By Ruby Tuesday
A pre-A.I./Alternate Universe fiction. Joe teaches a spoiled rich girl the true meaning of unhappiness. One of my all time favorite Joe fics! Rating: PG-13 *
"Artificial Flame" by King Raisin
AU A romantic comedy involving a girl who's reluctant to acknowledge her true feelings about a certain Mecha Rating: PG-13 *
Day After Day by Sapphire Rose
Fragments from Joe's diary, giving us a glimpse of his life, a bit rhapsodic, but wonderfully humorous Rating: PG-13
(Now archived; more chapters coming soon... )
"Fire and Ice", Or "Blush, Blaze Burn" by Sapphire Rose
Joe has many customers, but none as harsh as one girl...A very powerful fiction from a young writer! Rating: R NEW!!!
Flash Before Your Eyes by Sapphire Rose
Joe goes on a road trip to Rouge City with Riley Brackett,a sullen, bored 15 year old girl. Rating: PG-13

(Broken Link: Will Soon Be Archived)

And it's sequel...
by Sapphire Rose
Sequel to "Flash Before Your Eyes"-- After Joe gets himself in trouble, Riley wrestles with her true feelings for him... Rating: R
The "Cecie Martin" series by "Matrix Refugee"
Cecie Martin, a young writer, moved to Rouge City looking for inspiration... She never expected she'd find a male muse in a Mecha named Joe. Rating: PG-13 (In Progress... New Chapter added)

Runnin' Loose on the Streets of Rouge City
Cecie's extremely straight-laced Catholic girlfriends come to visit her in Rouge City...and what happens w en they fall in with a certain green-eyed lover-Mecha. Rating: PG-13

Sequel to "Runnin' Loose on the Streets of Rouge City" At Phila and Bernie's double wedding, Cecie succeeds in turning their New England hometown on its ear when she brings Joe along (My all-time favorite of my fics) Rating: PG-13

Halloween in Rouge City...a killer is roaming the streets...is Joe the next victim? And how does Cecie cope with her feelings about Joe as she fights to protect him?
Rating: R (Violence)

After Joe is resold Cecie does everything she can to find the green-eyed Mecha that she loves... and the journey leads her to some odd places... Rating: PG-13 (COMPLETE)

A Many Splendored Thing by Time Lady Quazar
One of the most deftly written and sensitive Joe fics I have ever seen: Our Boy discovers true intimacy when he meets a lonely young woman Rating: R
Gigolo Joe, What Do You Know? by Time Lady Quazar
Sequel to "A Many Splendored Thing." Life isn't always perfect, even when you're a lover-Mecha. Rating: R
Room 207 by Achilles-Heel
Joe and Patricia...need I say more? Rating: R
"Words" by Laurie E. Smith
A deceptively simple sketch of David and Joe. Then it hits you... Rating: PG
As There Are Stars at Night by Ista of the Dreamers
A very sensitive fiction, wonderfully capturing that oddly innocent aspect of Joes natureand how discovering David has helped him discover real love Rating: PG-13
"I was I am!" by Zibblecoot
Joes last thoughts after his recapture Rating: PG-13
Eu sou, eu fui ("I am... I 'was'... Only a Gigolo ") by Fabiola Yume
A song-fic based on David Lee Roth's "Just a Gigolo" -- Joe's thoughts just before his destruction. Rating: PG (In Portuguese) NEW!!
And for those whose primary language is English:
Translated by "Danielle Swinton" NEW LINK!!!
More To Love Than This by The Person Behind My Mask
After saving him from the Flesh Fair, a young woman tries to show Joe, the lover bot, that not all Orga are evil and that he deserves to be treated than he has past.
Rating: R

To End a Farewell by Lily9

A pre-A.I. fanfic about Joe's harsh lesson in trust and betrayal (Incomplete)

Rating: PG-13
Written by Callista Loveday, another fan helps complete a classic "A.I." fic.
I only found this recently, and it satisfies very well! Enjoy!! NEW!!!
An order of Catholic nuns who help various outcasts, takes in a lover-Mecha on the run. Rating: PG-13
"Fire From Heaven" By Laurie E. Smith
David has been lost, but he may have left Joe with the key to the next step in mecha evolution. Rating: PG-13 (will eventually be NC-17), IN PROGRESS
(Very, very powerful stuff here, with a lot of incredible imagery. If its true that DreamWorks is considering an A.I. sequel, they should take a look at this fiction!) *
"Broken" by Laurie E. Smith
Post Act II: David has touched many lives, but how has he affected Joe? Rating: PG
The "Zenon Eyes" Series by "Matrix Refugee"
Zenon Eyes I: "I Only Have Eyes for You"
Allen Hobby was not the first Mecha designer to replicate a lost love; tells part of the back story on Gigolo Joe. Rating: PG-13 (My first "A.I." fic EVER!)
Zenon Eyes II: "I'll Be Seeing You"
Monica only wants to meet the last being to see David, but she gets more than she expected. Rating: PG-13 (Theres a lot going on under the surface of this seemingly quiet domestic drama.)
Zenon Eyes III: "I'm Beginning to See the Light"
As Joe adjusts to his new role, his creator makes a startling discovery about him. Rating: PG-13 (I put a little bit of moral theology into this which even I didnt expect would work as well as it does.)
Fifty years after his inception, Joe embarks on an endeavor that may bridge the gap between Orga and Mecha in ways neither class could expect
Rating: PG-13
Gigolo Turf Wars by Matrix Refugee
Jake Jacobi, actor in training and shall we call it an escort?, hasn't had much business, and it only gets worse when a certain green-eyed love machine invades his turf. Rating: R

System Error by ImagineGal
Joe suffers a minor malfunction...with hysterical results! Rating: PG
By "KakyaJun" -- WARNING!!! This is a classic parody fic which appeared once on the "A.I." fanfiction Yahoo! Group. Do NOT eat or drink anything while reading it! May also cause excessive groaning!!! YOU HAVE BEEN WARNED!!!!
Rating: G (I know, "a G-rated Joe fic??!!??" That is this fics raison-d'etre...)
NEW!!!
*'s indicate fictions found exclusively on the fanfic page of "Clear and Haunting Visions"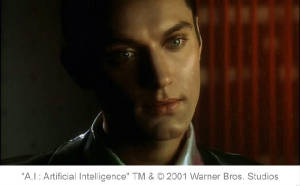 Is that music you hear? You bet! It's "I Only Have Eyes for You", one of Joe's sound files